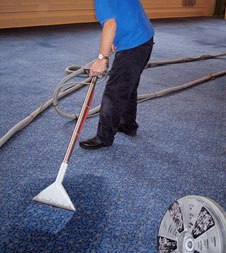 In order to maintain the pristine condition and appearance of a carpet, regular cleaning will be necessary. However, constant vacuuming alone will not be enough to give it the thorough clean that it requires. Residential and commercial carpets will instead need expert care of at least once or twice a year so it will stay clean and healthy for a much longer period of time. You will need the assistance of professional cleaners if your rug experiences any of the following problems:
Accumulation of Harmful Contaminants
Surface dirt and grime can be removed easily but dust, bacteria, molds and viruses living underneath the carpet's fibers – which are often invisible to the human eyes – will be impossible to eliminate with vacuuming alone sine it cannot reach the carpeting's deepest area. However, a professional steam clean will be capable of killing and eradicating these harmful contaminants and pollutants due to its use of powerful equipment that reaches beneath the fibers.
Stubborn Stains and Heavy Soiling
Despite the fact that you vacuum your carpets on a regular basis, it's still not capable of eliminating old or new stubborn stains, as well as heavy soiling. Expert cleaners knows how to remove these stains and soiling by using specialized solutions that are efficient in eliminating dirty spots yet gentle enough as to not ruin the material or color of the rug.
Resistant Odor-causing Bacteria
Your pet's urine lingering in the carpeting will surely give it an unpleasant smell that will affect the quality of indoor air in your property. It will be impossible to remove the root of this horrid smell since they are often stuck deep down the fibers. Cleaning companies know exactly how to proficiently get rid and kill odor-causing bacteria no matter how resistant they are since their cleaners utilize the latest tools and solution in removing them completely.
Matted and Flat Carpets
Expert technicians know how to deal with a matted and flat carpet. They will give it the ideal care it requires in order to restore its once fluffy feel and lovely appearance. In addition, they will use safe and environment-friendly cleaning agents that won't leave harmful residues behind which can wear-out the carpet even more.
Professional cleaning companies will provide rugs or carpets with a proper, deep clean that vacuuming will not be able to do. Most importantly, these skilled and expert technicians know and understand what will be the ideal treatment plan for the kind of home or business carpet that you have; therefore avoiding any damages on its material or color.