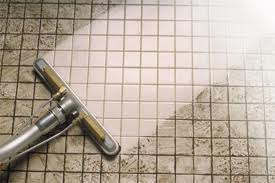 Carpet Cleaning Northern VA can also help out with your residential or commercial tile cleaning needs. We deliver outstanding workmanship in cleaning tiles and grout, returning their appearance to practically like new. Our quality services can help you enhance and revitalize the look of your floors, counters, walls and other tile and stone surfaces.
Cleaning your Northern Virginia grout and tile by hand is a long and tiring process since there's so much scrubbing and elbow grease involved, not to mention most tile cleaning chemicals are harsh on your skin and environment. We have an alternative for this through the use of our powerful carpet cleaning machine with adapters for tile which can power away that mildew and grime in no time! Whether your tile is in the kitchen, bathroom or floor, we can clean it up and gets it looking great again.
We make sure our skilled technicians use specialized cleaning solutions and powerful suction equipment to efficiently eliminate any dirt and grime from your grout, stone and tile, making them lasts much longer and helps in bringing back its original shine.
Another factor that can make tile or grout cleaning such a challenge is those accumulated dirt and contaminants that makes your tiles look dull; causing them to appear darker and discolored. Cleaning the tile or grout on your own using the usual home cleaning techniques will not help in removing those dirt and contaminants build-up that are often found in hard-to-reach places. Also, it's really difficult to clean and eradicate dirt trapped in the pores of tile or grout using traditional cleaning agents. This is where our professional tile cleaning service would be a great help and benefit to you.
It's advised to have your residential or commercial Northern Virginia tile be cleaned once every 12 to 18 months for it guarantees that your tile will maintain its long-term shine.
Contact us today to schedule a cleaning or to get a free quote.