Carpet Cleaning Northern VA is a locally owned, full service cleaning company located Northern Virginia serving the Washington, DC metro area. We offer a wide range of services to ensure that your floors, furniture and carpets are clean, sanitized and germ free. We use only high quality, non-toxic and green cleaning solutions and products in your home or business, and we are careful to ensure they are safe to use around pets and children. Our cleaners go through a thorough training program and are certified by Clean Trust, an international cleaning industry organization.
Professional Tile and Grout Cleaning for Washington DC and Northern VA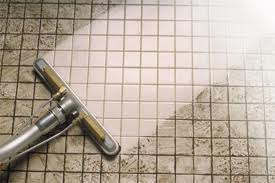 Cleaning your home's tile and grout is an important part of promoting your family's health since it creates a nearly germ-free environment. High pressure tile and grout steam cleaning safely and effectively reaches places that regular mopping or sponges cannot. Carpet Cleaning Northern VA's high pressure cleaning methods go beneath the surface to strip away years of buildup and reach the many hidden cracks and crevices that are in your grout and many tiles. Most of our customers are amazed at the results after we finish.
Our tile and grout cleaning service removes grime, mold, mildew, scuff marks, and any type of ground in substance from your tile, whether its on the floors of your bathroom or part of a backsplash in a kitchen. The steam cleaning process generates deep penetration into the grout to remove germs, bacteria and dirt, without damaging or stripping your tile of its luster, leaving it with a brilliant shine. We can also seal your tile and grout to make it resistant to returning grime, mildew and more for months to come.
Green Tile Cleaning in Northern Virginia
We stand by our services with a satisfaction guarantee and believe, along with hundreds of our happy customers, that our cleaning services are among the best in the business. Out team of certified cleaning technicians will ensure that you will receive a professional level cleaning that is performed safely and properly.